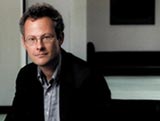 It has come to the attention of The Facetious CIO that there are those amongst us that do not know who Nicholas Carr is. It can be said that a man is defined by his work, and since I do not know Nicholas Carr personally, I can only define him by his work. So here goes:
"Does IT matter?"
- written in 2004, this book was already answered in Mr. Carr's "IT doesn't matter" article in the Harvard Business Review the prior year. In both works Mr. Carr argues that the strategic advantage of IT has diminished to a point that it is no longer a differentiator when comparing businesses. In other words, there is no strategic advantage to the way you deploy your CRM system on a PC server that is any different from your competition. The result: CEOs begin to reign in on growing IT budgets and CIOs begin to question their worth
"The Big Switch"
- written in 2008, this book draws similarities between the power utility market just after the industrial revolution, but before the information age and current IT services. Mr. Carr envisions a future where IT services are commoditized to a point where they can be purchased like a utility. Just as most manufacturers used to make the power they consumed to build things and now they just get it from the grid, so too would companies shed their IT departments and just buy services from the cloud. The result: CEOs begin to distribute IT budgets out to individual departments to go get their own services from the cloud and CIOs start looking for new jobs.
You may follow Nick's musing on a more regular basis by following his
blog
.
So, to those of us in the Cloud Computing and SaaS industry, "The Big Switch" is the book of Genesis in our bible. I believe that makes Marc Benioff, Moses.